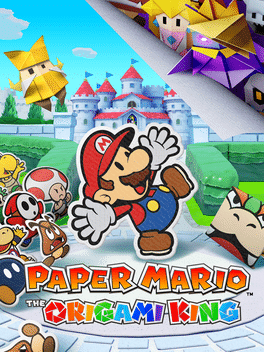 Paper Mario: The Origami King
Join Mario and his new companion Olivia on a comedic adventure that will take you to the far corners of a papercraft world in Paper Mario: The Origami King on Nintendo Switch!
Face off against the Origami King and his army of paper invaders, team up with some extraordinary companions and master magical powers on your quest to save the world.
Unwrap an epic quest!
Travel the land, repair the damage done by the Folded Soldiers and rescue Toads trapped in all manner of wacky scrapes!
With the help of Olivia's paper-folding powers, use the far-reaching 1,000 Fold Arms and other paper transformations to save those imprisoned by the Origami King's henchmen, and help restore peace to the world.
Put a stop to King Olly's plans by engaging in battles which will put both your tactical thinking and puzzle solving skills to the test – against his origami army, as well as humongous bosses under his command!
Plataforma
Nintendo Switch